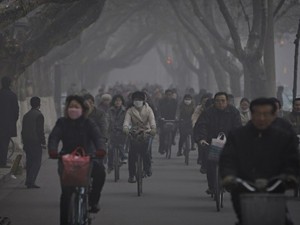 Construction dust in the air and on the streets.
Exhaust from industrial buildings (Sulfur dioxide, NH3, and nitrogen dioxide)
Smoggy conditions where one cannot see more than 10 feet in front of them
Smells like burning waste (coal, garbage, plant matter)
Cannot see the sky
Streets are filled with dust, soot, and garbage.
Mostly places of movement rather than an area to occupy for more than a moment except for the people that live or work in the area.